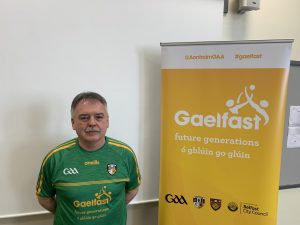 Kieran Megraw
Rural Games Development Manager
07889598451
Kieran Megraw has been employed within the GAA since 2006 working initially for Antrim GAA before moving across to Ulster GAA as a Regional Hurling Development Officer. Kieran became the Rural Games Development Manager at the beginning of 2019.

Kieran currently manages the Coach Education programme within Antrim which includes Safeguarding, Foundations and Award 1s for clubs and schools. Kieran is responsible for managing the Games programmes in Antrim, supporting divisional and all county boards on providing additional games for young people and providing additional support to schools via blitzes and competitions. Kieran manages the coaching provision for schools in South West and North Antrim.
If you would like more info on Coach Education, Games Programmes for clubs/schools or school coaching please do not hesitate to contact Kieran.